Product Description
Hejian Deris Petroleum Drilling Equipment Co., Ltd provide you High quality Tricone Bit , The oilfield drilling bit Reaming gage technology allows us to put more active cutting elements on gage than anyone in the industry.This feature is perfect for directional applications. Its gage holding ability is superior for maintaining gage on lateral or extreme build angles. We can offer diamond in this feature for the most abrasive applications as well. Bearing and seal life are extended by keeping the cone from rubbing the hole-wall and generating additional heat. Our precision bearings are made with the tightest tolerances in the industry. The bearing materials used have extremely low friction and high load capacity.We use one of the most chemically resistant,heat tolerant HNBR materials for our bearing seal and pressure compensator. This material is very compatible with oil based muds.Seal wear is extremely low with the combinationof our proprietary Synthetic grease.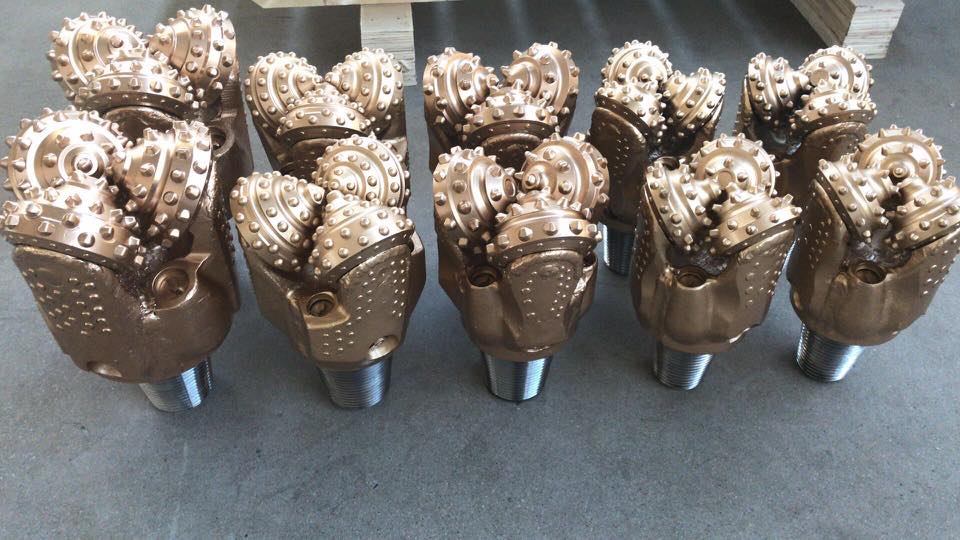 Tricone Drill Bit design
Hard Alloy Welding Pervent bit wear and tear work and protect the bearing
Hard alloy drill palm surface neck protection prevent bit wear in abrasive formation
High stength tunsten carbide teeth ,high temperature hear treatment forged alloy steel
Lubricating system protection of the bearing and seal system of the bit
Sealed Journal bearing
You can find the bit Diameter,thread Pin IADC code Serial number on the bottom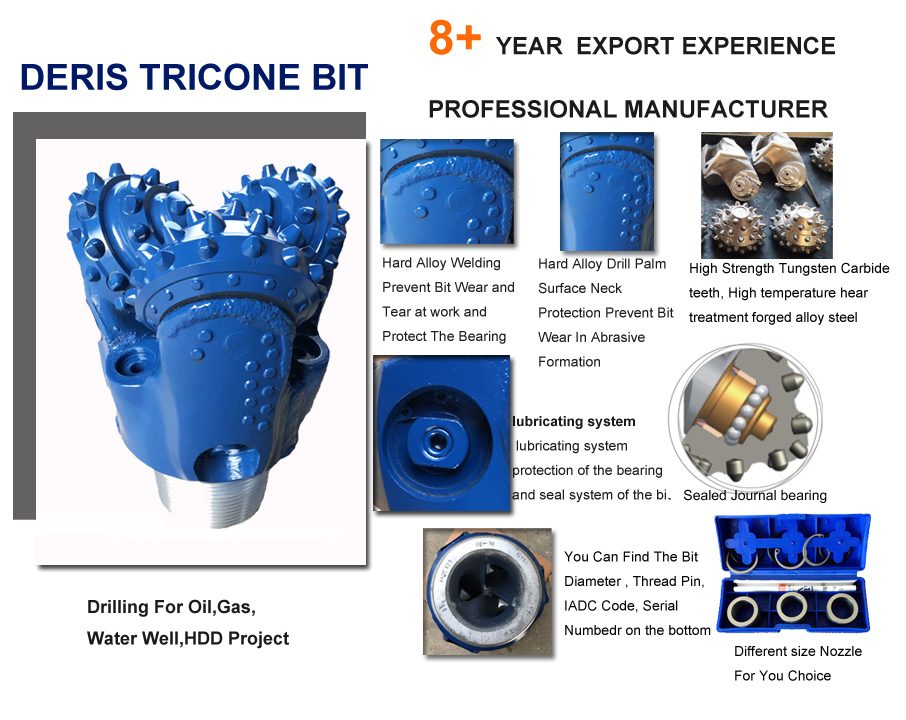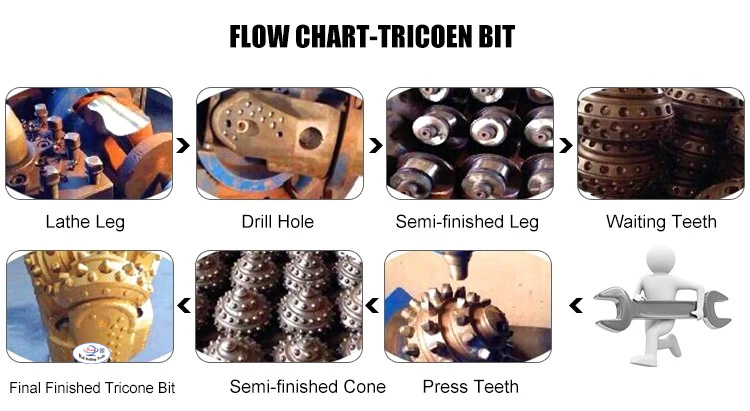 oil well tri cone drill bit parameters
IADC

WOB(KN/mm Bit Dia.)

RPM(r/min)

Applicable Formations

435

515

0.20~0.70

200~80

Soft with very low compressive strength such as shale ,clay, sandstone ,soft limestone ,etc

535

0.35~0.80

200~80

Medium soft with low compressive strength and harder abrasive stringers ,such as hard shale ,hared gypsolyte, soft limestone, sandstone and dolomite with stringer ,etc

417

437

0.35~0.90

140~70

Very soft with low compressive strength and high drillability, such as shale, clay, sandstone and conglomerate ,etc.

517

527

0.35~1.05

120~50

Soft with low compressive strength, such as shale, clay, sandstone, soft limestone, salt bed and hard gypsolyte, etc

537

547

0.35~1.05

110~40

Medium soft with low compressive strength and harder abrasive stringers, such as hard shale, hard gypsolyte, soft limestone, sandstone and dolomite with stringers ,etc

617

627

0.35~1.05

80~40

Medium hard with high compressive strength and thick &hard stringers, such as hard shale, limestone, sandstone and dolomite, etc

637

737

0.70~1.20

70~40

Medium hard with high compressive strength and high abrasiveness ,such as limestone ,dolomite, sandstone and chert ,etc

Note: The upper limits of WOB and RPM in above table should not be used simultaneously
tricone drill bit sizes
NO.

Tricone bit size

Thread

NO.

Tricone bit size

Thread

Inch

mm

inch

mm

1

3-3/4

95.3

2-3/8 " REG Pin

28

9-5/8

244.5

6-5/8

2

3-7/8

98.4

29

9-7/8

250.8

6-5/8" REG Pin

3

4-1/8

104.8

30

10-1/2

266.7

4

4-1/4

108.0

31

10-5/8

269.9

5

4-1/2

114.3

32

11

279.4

6

4-5/8

117.5

2-7/8" REG Pin

33

11-5/8

6-5/8

7

4-3/4

120.7

34

12

304.8

8

4-7/8

123.8

35

12-1/4

311.2

9

5-1/2

139.7

3-1/2" REG Pin

36

12-5/16

6-5/8

10

5-5/8

142.9

37

12-3/8

314.3

11

5-2/3

143.9

38

12-7/16

315.9

12

5-3/4

146.1

39

12-5/8

320.7

13

5-7/8

149.2

40

13-1/8

333.4

14

6

152.4

41

13-1/2

342.9

15

6-1/8

155.6

42

13-5/8

346.1

16

6-1/4

158.8

43

13-3/4

349.3

17

6-1/2

165.1

44

14-1/2

374.7

7-5/8" REG Pin

18

6-5/8

168.3

45

14-3/4

374.7

19

6-3/4

171.5

46

15-1/2

393.7

20

7-1/2

190.5

4-1/2" REG Pin

47

16

7-5/8

21

7-5/8

193.7

48

17-1/2

444.5

22

7-7/8

200.0

49

18-7/8

479.4

23

8-3/8

212.7

50

20

508.0

24

8-1/2

215.9

51

22

558.8

25

8-5/8

219.1

52

24

609.6

26

8-3/4

222.3

53

26

660.4

27

9-1/2

241.3

6 5/8 " REG Pin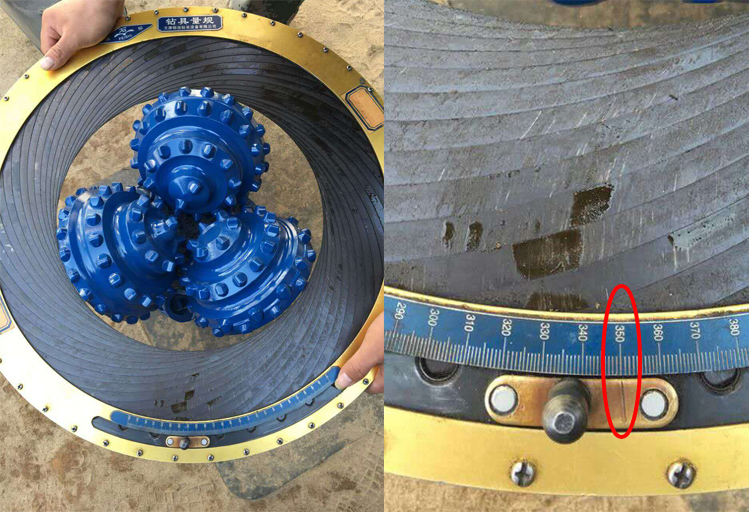 Application of hard rock drilling bits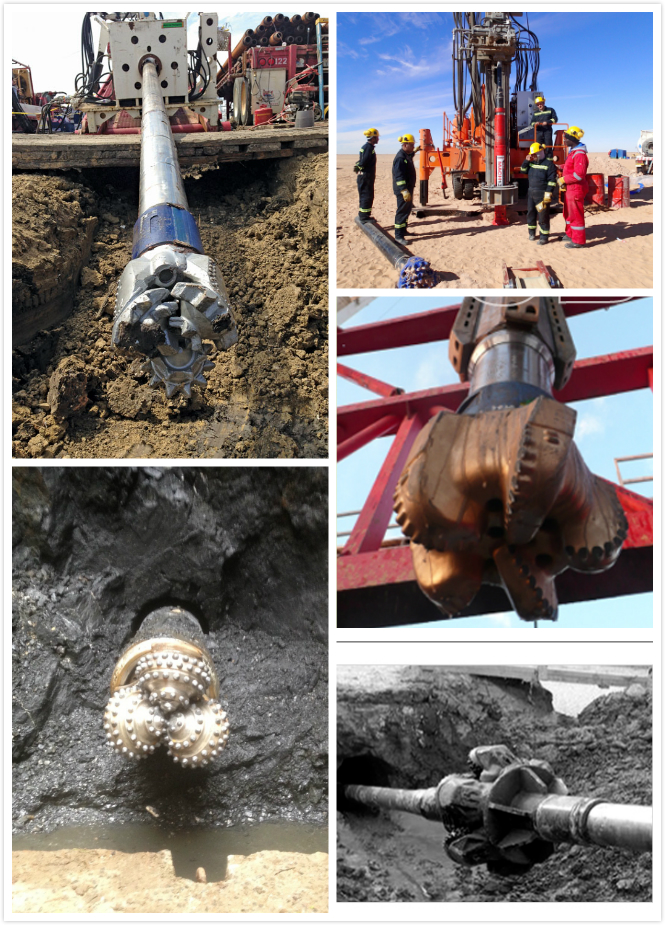 Our Company
Hejian Deris Petroleum drilling equipment Co., Ltd was established in 2000, located in Hejian City Junziguan Industrial Park,close to Tianjin Port, Beijing Airport, convenient transportation and superior location. The company covers an area of 30 acres and a factory building of 15,000 square meters.
Specializing in the production and sales of Drilling Tools such as Tricone bit, PDC drill bits, Hole Opener, roller cone drills, hammer and hammer bit, drill pipes, drill collars, etc. A professional design, production, inspection and foreign trade sales team has been established.
Products are export to the United States, Canada, Russia, Kazakhstan, Iran, Qatar, Sweden, Germany, Australia, Singapore, Mexico, Colombia and other more than 30 countries.
Our company is planning to adding 3 production lines,CNC machine tools,drilling machines,milling machines,quality testing equipment etc to ensure quality and timel delivery.Looking forward to working with you.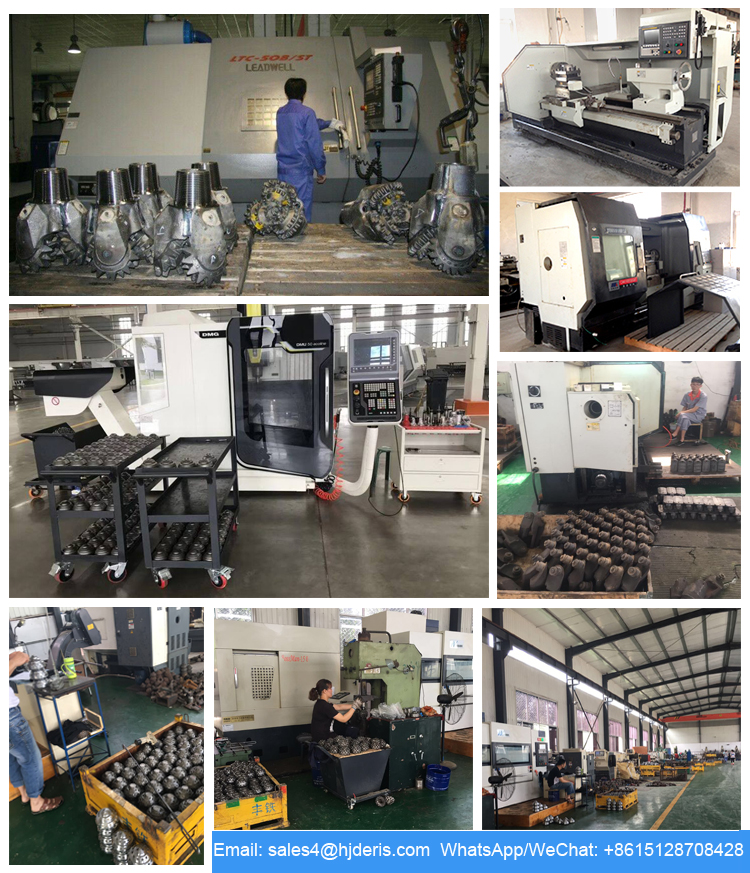 Our certificate
Each product is manufactured and inspected in strict accordance with the industry's highest technical quality standards and API specifications. The quality assurance system established in accordance with the requirements of ISO 9001 ensures the best quality of the products and the effective operation of the company.

Oil well tricone bits Package and shipping
Package Type : wooden case ,also be packaged according to customers requirement
Transportation : by sea , by air or land transportation . Less than 50kg shipping by courier better
Delivery : If we have stock, the delivery time will need about 2~3 working days. In general, common size tricone bits and PDC Bit, we have stock.
If we have no stock, such as the tci reamer and PDC Hole Opener, it will be 7-10 working days in total.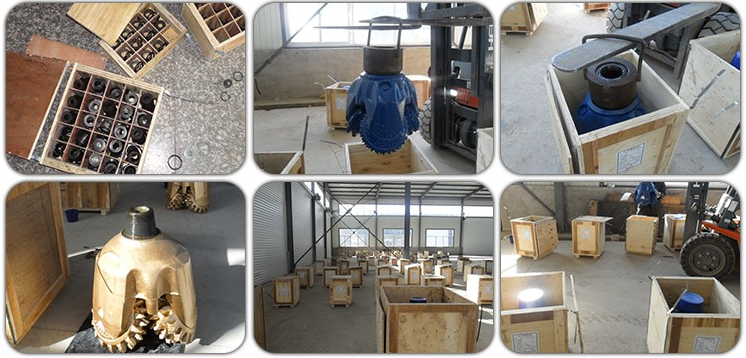 How about our Customers feedback ?
The drilling deepth more than 460meters 1 pc Metal seal bearing TCI Tricone Bit
TCI Tricone bit Drilling 3500 meters well no problem
1 pc Hole opener drilling more than 10 well no problem
Drilling to 1600 meter the PDC Drill Bit continue work good enough

If you are interested in our products please send Email to Jenny
This isJenny, already have 7 years working experience for this section. Already make many friends from different countries. I am very pleasure to help them solve some difficult problems for the HDD drilling reamer and tricone bit, and find the more suitable drilling products. We believe double win is what we want. If you have any questions, welcome to talk with me.


Our service
1 We are manufacture can supply good quality goods and competitive price
2 We not only have ourselves design but also can accept customization
3 We have fast and on time delivery time
4 Every bits have it's quality assurance
5 Contact our anytime if you have any question with bits.
6 Technical supply online

How to complete the whole deal
1. Firstly decide the design, material and color
2. Decide the size in accordance with client's requirement and our recommendation
3. We will give the best offer.
4. Client's accept the offer and we send proforma invoice
5. Client transfers 30%-50% deposit and production begins
6. After production, we will send ready products photo
7. After client's confirmation, we will arrange shipment, and send copy shipping documents like B/L, commercial invoice and packing list
8. Client transfer balance payment and we will send original documents by express or Telex Release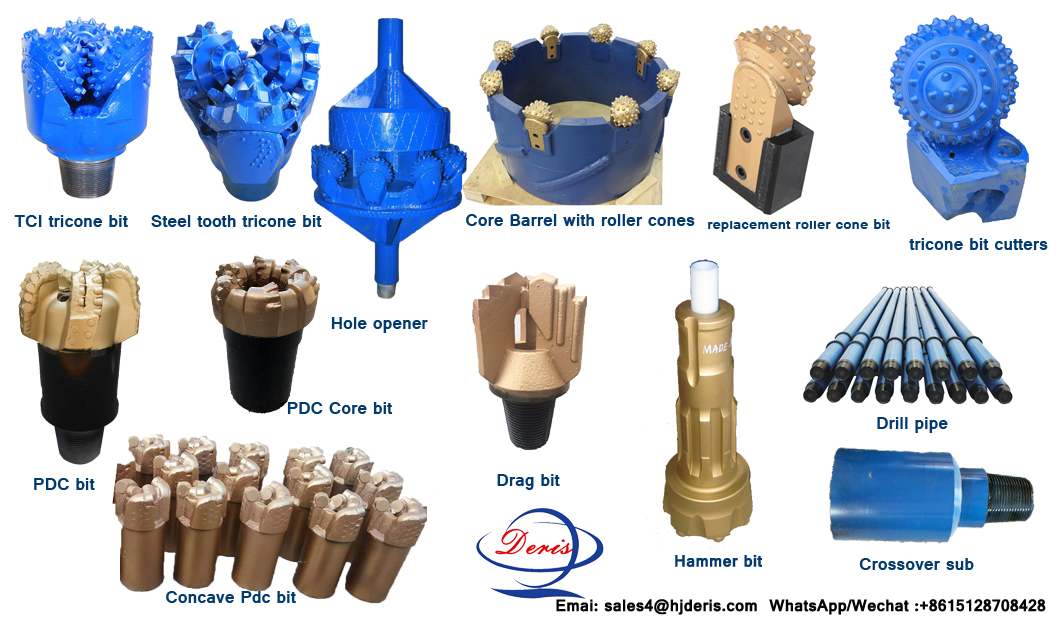 Looking for ideal Water Well Tricone Bit Manufacturer & supplier ? We have a wide selection at great prices to help you get creative. All the Hard Rock Drilling Bit are quality guaranteed. We are China Origin Factory of Rock Drilling Tricone Bit. If you have any question, please feel free to contact us.
Product Categories : Tricone Bit > TCI Tricone Bit